A free shuttle is also available.
A free shuttle Bus."Green Ecoh"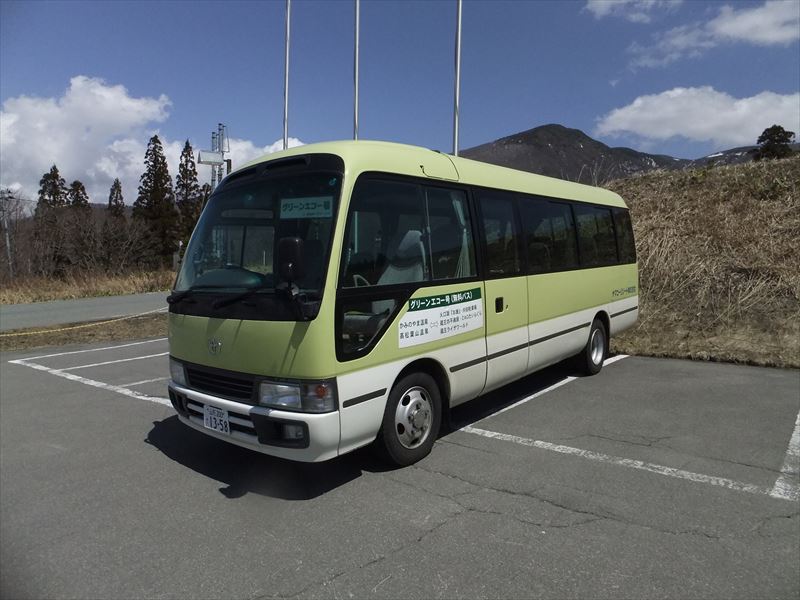 Please use the tour of Zao Okama from Kamiyama city.
The Green Echo is a 26-seat microbus with an auxiliary chair.
When visiting Zao Okama, please get off at the Karita parking lot and then use the Katta lift(for a fee).
Usage Notes
Reservations are not available for the free shuttle bus.
Please be sure to wait in front of the bus stop sign.
Many customers use it, so please keep your luggage such as suitcases and coin lockers such as Kaminoyama Onsen Station.
Please note that you may not be able to get in if you are full.
If the area around the summit of Zao is in bad weather and it is difficult to operate, please be aware that due to safety reasons, there may be a suspension of operations or a section stoppage between Zao Liza World and Karita Parking Lot.
Operation period may be changed by the road condition of Zao echo line
If you come by means of transportation:
Tokyo Station → Tohoku / Yamagata Shinkansen 2 hours 40 minutes → Kaminoyama Onsen Station → 30 minutes by bus or taxi → Liza World
Sendai Station → Sendai Station-Yamagata Line Bus 50 minutes → Yamagata Station → Kaminoyama Onsen Station → 30 minutes by bus or taxi → Liza World
Sendai Airport → Sendai Airport to Yamagata Line Bus 80 minutes → Yamagata Station → Kaminoyama Onsen Station → 30 minutes by bus or taxi → Liza World
Niigata Station → Uetsu Main Line, Yonesaka Line, Yamagata Shinkansen 3 hours → Kaminoyama Onsen Station → 30 minutes by bus or taxi → Liza World
If you use a car:
Tokyo / Fukushima area → Tohoku Expressway → Fukushima JTC → Kaminoyama Onsen IC → Liza World
Sendai area → Tohoku Expressway → Murata JCT → Yamagata Expressway → Yamagata Zao IC → R13 → Kaminoyama → Liza World
Niigata area → R113 → Akayu → R13 → Kaminoyama → Liza World
Shonai area → Yamagata Expressway → Yamagata JCT → Tohoku Chuo Expressway → Yamagata Kamiyama IC → Liza World